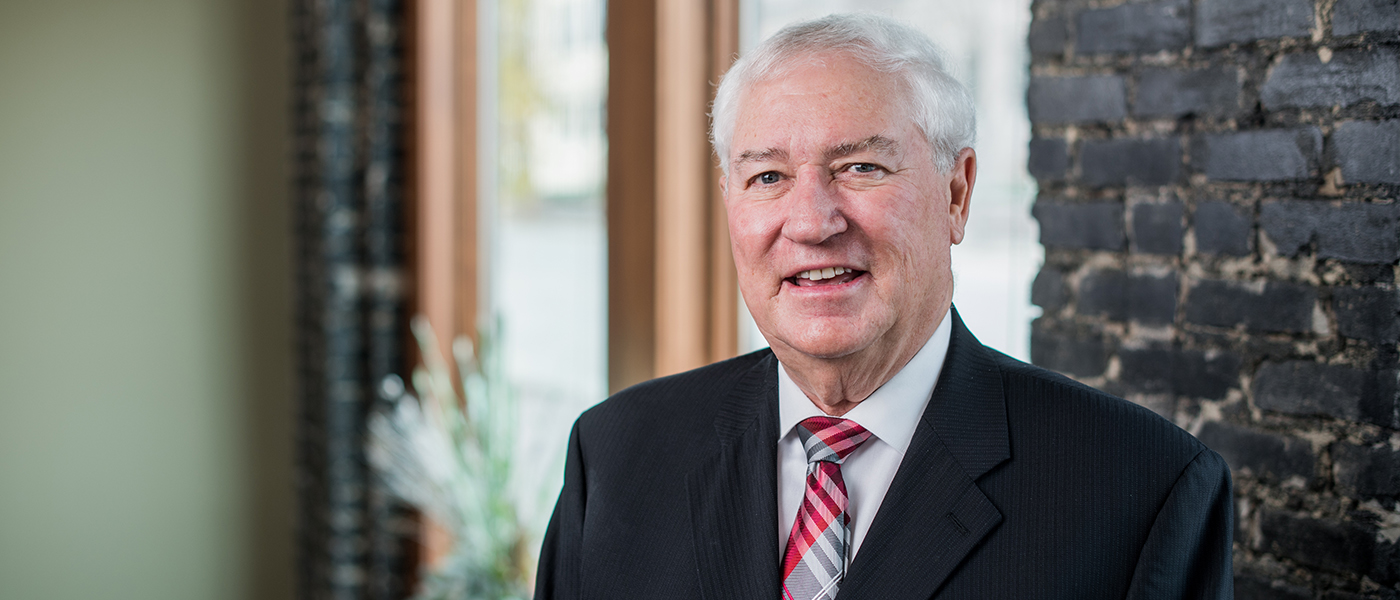 Overview
Tom Welk is one of the most experienced and respected business litigators in South Dakota. During Tom's forty plus years of practice, he has represented clients in complicated legal matters in all courts and before a variety of administrative agencies. Tom has also been engaged to conduct special investigations for governmental agencies as well as private clients and has defended numerous lawyers in claims of legal malpractice.
In addition to his active practice, Tom has generously and tirelessly given back to the profession through his active involvement with the State Bar of South Dakota, having held leadership positions on many committees and having served as President. Tom's passion for improving the profession is demonstrated best by his leadership of the South Dakota Trial Academy and the South Dakota Practice Course offered at the University Of South Dakota School Of Law.
Bio
Tom has over 40 years of trial and appellate experience in complex civil, criminal and administrative law litigation, representing individuals, small and global entities as well as governmental entities in the state and federal courts and before administrative agencies in South Dakota. He joined the firm in 1979 after working in the South Dakota Attorney General's Office as the chief deputy in charge of litigation and was a former "white collar" crime prosecutor.
EDUCATION:
J.D., University of South Dakota School of Law (1975)
M.B.A., University of South Dakota School of Business (1975)
B.S. in Economics, University of South Dakota School of Business (1972), with honors
Professional and Community
ASSOCIATIONS AND ORGANIZATIONS
State Bar of South Dakota-President, 2004-2005; former chair of disciplinary board, judicial qualifications and lawyer competency committees; founder of and chairperson South Dakota Trial Academy; currently co-chair of the Legal Services Committee and Chairperson of the Equal Access to Our Courts Commission
American Board of Trial Advocates
Federation of Defense and Corporate Counsel
Defense Research Institute (Commercial Law Section)
South Dakota Defense Lawyers Association (Board of Directors, 1998-2002; President, 2000-2002)
TEACHING
Adjunct Faculty at University of South Dakota Law School coordinating the South Dakota Practice Course, which provides, through lectures and drafting projects, experience in transactional law, civil and criminal litigation utilizing practicing attorneys as lecturers.
Awards and Recognitions
AWARDS:
Outstanding Panel Counsel Award by ALPS (legal malpractice insurer) (2004)
DRI Fred Sievert Award (national recognition for outstanding state defense bar leader) (2001)
First recipient of the Robert Riter Distinguished Service Award given by the South Dakota Defense Lawyers Association (2015)
RECOGNITIONS:
Board certified since 1995 in civil trial advocacy and civil pretrial practice advocacy (2012) by the National Board of Legal Specialty Certification (www.nblsc.us)
Listed for over 25 consecutive years as an AV Lawyer in Martindale-Hubbell
Chambers USA listed as one of the leading attorneys in General Commercial Litigation for several consecutive years
Super Lawyers:

Selected 2007 to 2022
In 2007 and 2009, listed as one of 25 lawyers who received the highest point totals in States of South Dakota, North Dakota and Nebraska
In 2011, 2013 through 2018, 2021 and 2022 listed as one of top five lawyers in South Dakota

Best Lawyers:

Listed in Best Lawyers of America since 1993
In 2013 to 2020, listed for the categories of administrative/regulatory law, and litigation involving antitrust, health care, commercial, energy, bet-the-company, banking and finance and regulatory enforcement, and labor and employment.
Lawyer of the year for Sioux Falls in 2013 and 2015 for health care law and Lawyer of the Year for administrative/regulatory law in 2012, 2014 and 2019
Reported Cases and Results
Some of Tom's representative cases include:
ADMINISTRATIVE LAW:
Citibank, N.A. v. South Dakota Department of Revenue,  868 N.W.2d 381 (2015)(refund request of over $30 million for bank franchise taxes involving statute of limitations).
BSSE Project Counsel. Lead South Dakota permit counsel for over a 160 mile 345kV electric transmission line in excess of $300 million in construction costs for Montana-Dakota Utilities Co. and Otter Tail Power Company. Gerald Pesall v. Montana Dakota Utilities Co., Otter Tail Power and South Dakota Public Utilities Commission, 871 N.W.2d 649 (2015). (Affirming issuance of construction permit.)
Northwestern Energy Rate Case, SD PUC Docket EL14-106 (represented industrial intervenors) settlement approved by SD PUC by Order dated November 4, 2015.
In re Otter Tail Power Co. ex rel. Big Stone II, 744 N.W.2d 594 (SD 2008). Lead South Dakota counsel for Big Stone II, a coal fired power plant project which exceeded $1.5 billion in construction costs, in obtaining various permits.
Northwestern Bell Telephone Co., Inc. d/b/a U.S. West Communications v. Kenneth D. Stofferahn, 461 NW2d 129 (SD 1990). (Declaratory and mandamus proceeding to disqualify elected public utility official based upon bias.)
BUSINESS LITIGATION:
Raven Industries, Inc. v. Clark Lee and Integra Plastics, Inc. 2010 SD 49, 783 N.W. 2d 844. Represented plaintiff employer in obtaining permanent injunction against departing employee and new employer.
Herman Schumacher, Michael P. Callicrate, and Roger D. Koch vs. Tyson Fresh Meats, Inc., Cargill Meat Solutions Corporation d/b/a Excel Corporation, Swift Beef Company and National Beef Packing Company, L.L.C., 515 F.3d 867 (8th Cir. 2008). The case involved motions to dismiss, summary judgment, national class certification, a jury trial of a nationwide class and an appeal. Co-lead counsel for one of the defendants in a case involving alleged violations of the Packers and Stockyards Act.
Dosch v. Avera Health, 731 N.W.2d 184 (SD 2007). Lead counsel for a hospital system in a state class action involving health care pricing issues.
Mueller et al. v. Cedar Shore Resort, Inc., et al., 643 N.W.2d 56 (SD 2002). Represented eight officers and directors personally in a complex shareholder litigation matter.
First American Bank & Trust, N.A. v. Farmers State Bank of Canton, et al., 756 N.W.2d 19 (SD 2008) Banking law litigation.
ANTITRUST LITIGATION:
Corner Pocket et al v. Video Lottery Technologies, Inc. et al., 123 F.3d 1007 (8th Cir. 1997), cert denied, 118 S. Ct. 1054 (1998). Appointed lead defense counsel by Chief Judge Richard Battey in a multimillion dollar and multiple party class action video lottery antitrust case.
State of South Dakota, et al. v. Kansas City Southern Industries, Inc., et al., 880 F. 2d 40 (8th Cir. 1989) cert. denied, 493 US 1023, 110 S.Ct. 726, 107 L.Ed 2d 745. (Nine week jury trial representing State of South Dakota involving Section 1 and 2 Sherman Act claims and tortious interference with contract.)
LAWYERS MALPRACTICE DEFENSE:
Hutterville Hutterian Brethren, Inc., et al. v. Jeffrey T. Sveen, et al., 776 F.3d 547 (8th Cir. 2015)
Roger Hamilton v. Richard A Sommers, et al., 855 N.W.2d 855 (S.D. 2014)
Chem Age Industries, Inc. v. Glover, 652 N.W.2d 756 (SD 2002).
Yarcheski v. Reiner, Miner and Johnson, Heidepreim, Miner, Marlow & Janklow, LLP, 669 N.W.2d 487 (SD 2003)  
FAMILY LAW:
Schieffer v. Schieffer, 826 N.W. 2d 627, 2013 WL 266258, 2013 SD 11 (representation of husband in substantial net worth case involving prenuptial agreement, child support and relocation request of special needs child).
Sanford v. Sanford, 694 N.W.2d 283 (SD 2005). Represented wife challenging prenuptial agreement involving one of the largest reported marital estates in the history of South Dakota.
APPELLATE EXPERIENCE:
Involved in more than sixty (60) appeals to the South Dakota Supreme Court and Eighth and Ninth Circuit Courts of Appeal, and has argued over fifty (50) of these cases personally.
OTHER REPRESENTATIONS:
Complex trust and estate litigation (representing trustees, beneficiaries and special committee members) (matters are sealed)
Appointed receiver in family law matter — Mary Grace Raiche v. Fred Raiche, Minnehaha County Circuit Court Div. 13-565;  Lisa Jane Nielsen v. Larry Lee Nielsen, Minnehaha County Circuit Court Div. 14-007.
Special counsel engaged to conduct investigations for various public and private entities.